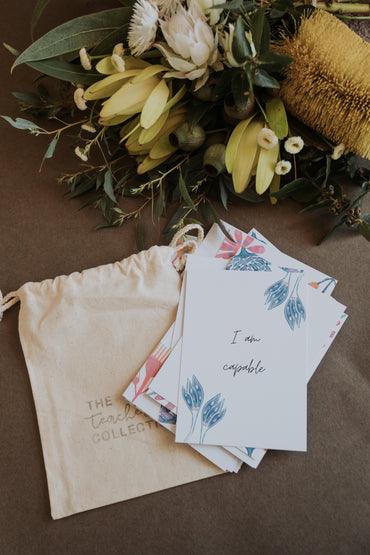 THE TEACHER COLLECTION X LORDY DORDIE Collab
The Teacher Collection x Lordy Dordie Collab 
"Georgie's artwork was a hero on our Affirmations for All cards, which are a series of affirmation to nurture those looking for inspiration, growth and support. One of my personal and business values is 'supporting Aussie made', so it was extra special to have Georgie on board for this and using an artwork design that features Aussie flora. The artwork complimented the Affirmations for All message perfectly.
We LOVE supporting Australian made and Australian artists. I've seen some of the collaborations Georgie has done with other brands, such as Ruby Olive and Karla Cola, and really connect with the vibrant nature of her art. It's impossible not to smile and find happiness when you're surrounded by colour. I knew this would be the perfect fit for my Affirmations for All cards.
Working with Georgie and Lordy Dordie was my first artist 'collaboration', so she really helped guide me through the process. She was able to suggest different options to suit my brief and was extremely accommodating amongst the COVID chaos when we were in the midst of designing and printing. 
Georgie's generosity is central to what she does. Not only is she a creative genius, but she gave me so much of her time and patience throughout the whole process. She offered honest insight when I asked questions and was able to work with me to develop a product that made both our creations shine. Would highly, highly recommend working with Georgie. "